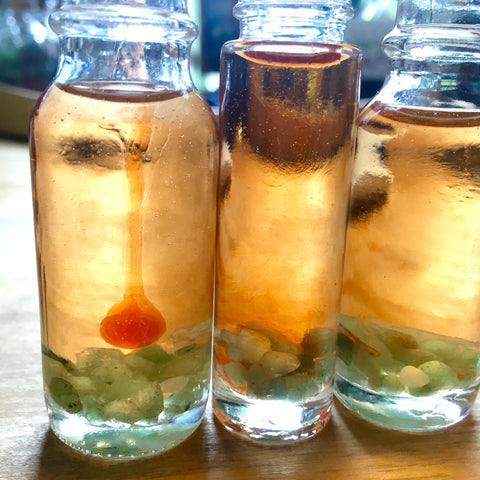 ABUNDANCE Infused with Green Aventurine Crystal Aromatherapy Potion
The use of aromatherapy to attract prosperity has been practiced for thousands of years by some of the world's wealthiest cultures. It was inherited through one's ancestral lineage to ensure continuance of  prosperity.
Our Abundance potion contains mood enhancers to promote good feelings and an aura of attraction around you. When you feel good, things naturally go your way in life. The potion works on all four levels of your being: physical, emotional, mental and spiritual creating a magnetic field for attracting abundance. This formula will enhance your inner resonance with the "Law of Wealth and Attraction."
ENERGY


Prosperity
Joy
Opportunity
Creativity
Manifestation
Health
Positivity
Faith
Green Aventurine is known as the "Stone of Opportunity," thought to be the luckiest of all crystals, especially in manifesting prosperity and wealth. It aligns conditions so "opportunity" is inevitable. It releases old patterns, habits and disappointments so new growth can take place. It brings optimism and a zest for life, allowing one to move forward with confidence and to embrace change. It enhances one's creativity and motivation, and encourages perseverance in maneuvering through life's obstacles. It also reinforces one's decisiveness and amplifies leadership qualities.
OIL - HEALING PROPERTY


Cinnamon - Joy
Ginger - Courage
Frankincense – Opens the mind
Myrrh - Uplifting
Patchouli - Prosperity
Grapefruit - Confidence 
Inspired by Lakshmi
(Hindu Goddess of Prosperity)
Refresh, renew and restore balance with the healing power of aromatherapy and crystal healing. Get your soul-nourishing experience anywhere, anytime with the pocket size roll-on. The dropper makes it easy to energize your space with a Zen essence using your oil burner.
The crystals have been energized with the sun and the moon to enhance the purpose and raise the vibration.
Our potions contain 100% therapeutic grade essential oils blended with jojoba oil making it safe to put directly on your skin.
---
We Also Recommend
---