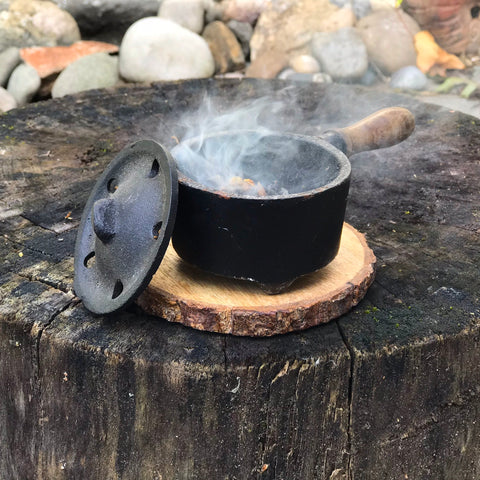 Cast Iron Resin and Herb Burner
A cast iron burner is one of the most sacred tools you can add to your arsenal.  It has held a magical significance in many cultures throughout the centuries.  It is a symbol of transmutation, germination, and transformation.  It releases earth's magic with the element of fire.
It is perfect for burning herbs and resin over charcoal tablets. The wooden handle gives you a safe way to hold and move the cauldron while it's hot. The holes on top lets the smoke escape, while still keeping hot stuff covered. 
There are several rituals that call for fire and burning.  Whether it's herb, incense, candles or burning a piece of paper, this cast iron burner will give you a safe tool for fire rituals.  Here are a few ways to use it.
Write a letter to your ancestors or lost loved ones and burn it in the altar for them to receive it.
During the waning moon, write down a habit you're trying to break or something you're trying to release on a small piece of paper, then burn it in your burner.
Create a small fire in your burner to represent a Goddess of light for a ritual.
Suggested Items:



---
We Also Recommend
---