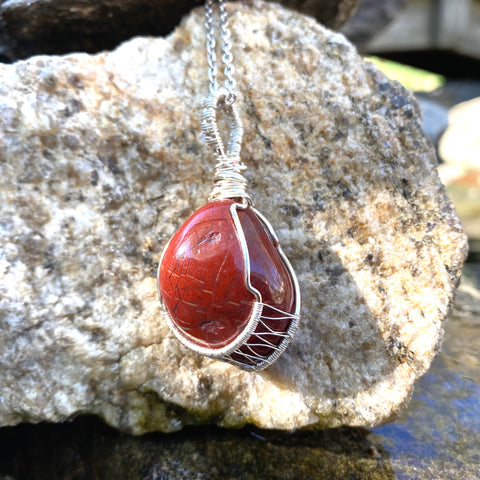 Grounding Red Jasper Pendant (Hand Wrapped)
Red Jasper is full of grounding energy connecting one deeply to the vibrations of the earth.
Inspires a positive attitude, increasing your motivation and energy level.
Encourage you to take action in your life. 
Provides courage to assertively tackle problems.
Stimulates your imagination to transform ideas into action.  
Supports through times of stress.
Brings tranquility and wholeness.  
Encourages honesty with one's self.
Helps brings problems to light and insight into difficult situations. 
Calms the emotions and cleans the aura. 
Boost your energy, vitality and perseverance.
Red Jasper (Brazil): 1.25" x .1" inches
Activate your pendant by whispering your wishes and desires into the crystal.  Learn about your stone's healing properties and incorporate them into your needs.  Place it by the window sill during the full moon to energize it and in the flow of smoke to cleanse it.  You can use sage, incense, herbs for this.  Wear it often, while being conscious of its power to develop a deep connection to it.
---
We Also Recommend
---