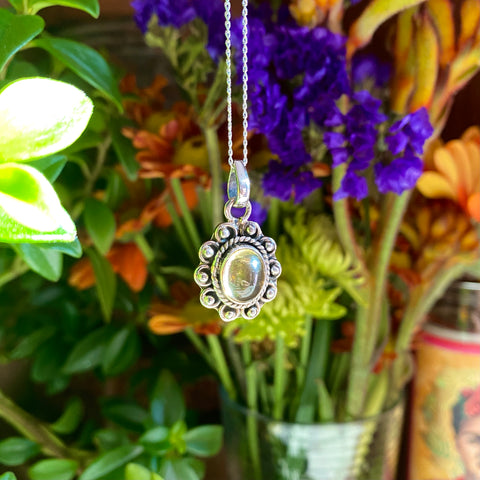 Happiness Pendant: Citrine (Sterling Silver)
Citrine's sun energy infuses your soul with happiness and light.
Cultivates positivity, growth and abundance
Opens you up to new prosperous opportunities
Helps you tap into positive possibilities all around you
Inspires the desire to grow, progress and transform
 Helps you breakout of any negative focus on the past
A great resource to build your emotional strength
Warms the solar plexus chakra to radiate personal power and self-confidence

Citrine (Brazil): 1.25" inch
Sterling Silver Necklace 20" inches
Designs vary as shown in the photos
Activate your crystal pendant by whispering your wishes and desires into the crystal.  Learn about your stone's healing properties and incorporate them into your needs.  Place it by the window sill during the full moon to energize it and in the flow of smoke to cleanse it.  You can use sage, incense, herbs for this.  Wear it often, while being conscious of its power to develop a deep connection to it.
---
We Also Recommend
---