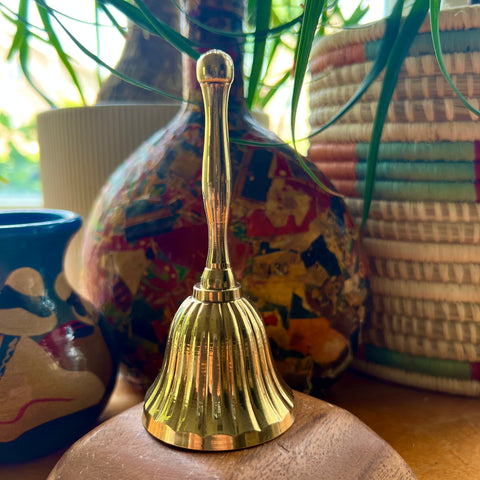 Space Purifying and Energy Cleansing Brass Bell
Space clearing is a ritual found in native cultures.  Beside smoke, sound is used to purify and clear the energy from  negativity.  The sound of the bell also brings the mind to tune in and focus on the present.  It represents a moment in time, it celebrates an occasion.  Ringing a bell can alter perception and awareness which is why the vibratory nature of bells they are an extremely effective form of spiritual cleansing. The vibration of a bell continues to resonate far beyond the time that you can actually hear it. 

4 inches high / 1.5 inch wide
Brass, having its own metaphysical properties, is known as the metal that brings out the natural good, also attracting healing, wealth, and protection. This brass Bell with scalloped outer bell and slender handle 4" is a symbol for new beginnings, clarity, and confidence.
When to Use
- before commencing meditation, prayer to clear the mind
- when giving gratitude to your ancestors
- to help clean off outside energy when arriving at home
- when people leave your home, to purify the air
---
We Also Recommend
---