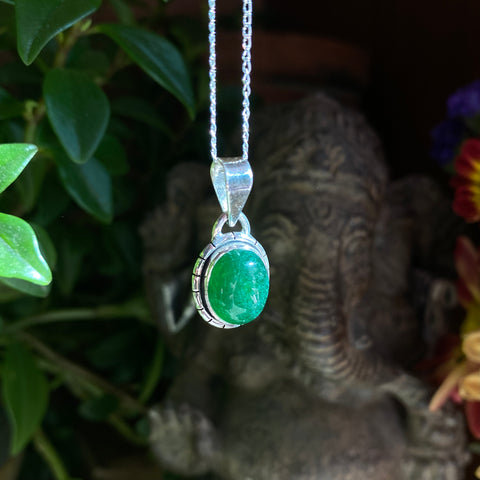 Abundance and Heart Healer Pendant: Green Aventurine (Sterling Silver)
 Green Aventurine is the

 stone of opportunity.
It opens doors to new ventures
Considered to be especially lucky when manifesting wealth
Aligns conditions so opportunity is inevitable
Releases old patterns and habits so new growth can take place
Reinforces one's decisiveness and amplifies leadership qualities

 Brings optimism and a zest for life
Enhances creativity and motivation
A comforter and heart healer
Encourages perseverance in maneuvering through life's obstacles
Green Aventurine (Brazil): 1-1.18" dia
Sterling Silver Necklace: 20" inches
assorted designs available
Activate your pendant by whispering your wishes and desires into the crystal.  Learn about your stone's healing properties and incorporate them into your needs.  Place it by the window sill during the full moon to energize it and in the flow of smoke to cleanse it.  You can use sage, incense, herbs for this.  Wear it often, while being conscious of its power to develop a deep connection to it. 

---
We Also Recommend
---