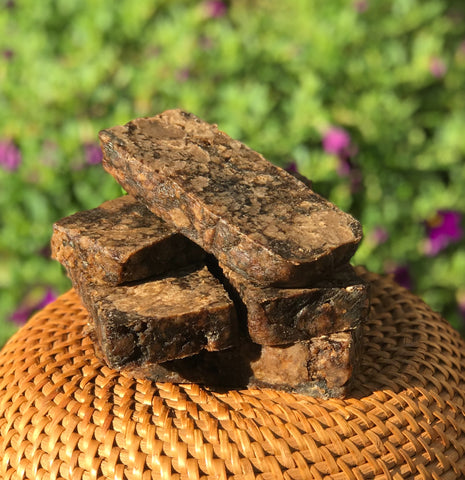 African Black Soap: The Holy Grail of Skin Care
African black soap originated in West Africa (especially Ghana). The tribes of West Africa make this soap with plant parts that are locally harvested.
Benefits of this wonderful all-natural soap:
1. It Helps In Soothing Irritated Skin
African black soap can calm down your skin – whether it is excessively dry or you have eczema and other skin allergies. It helps in clearing and soothing rashes and itching.
2. It Has Antibacterial Properties
African black soap contains components rich in flavonoids and alkaloids that can fight bacterial infections and help prevent future complications.
3. It's Safe To Use For All Skin Types
Usually, synthetic soaps contain a lot of chemicals and artificial fragrances that destroy the acid mantle of your skin and cause issues. African black soap contains plant products and is fragrance-free. This soap is extremely gentle and helps in balancing your skin's pH without stripping it of moisture.
4. It Is A Great Natural Moisturizer For The Skin
As African black soap contains a concoction of various oils, along with shea butter, it is incredibly hydrating and beneficial for dry and combination skin types. The butter and oils enrich the skin, lock in moisture, and keep it plump and hydrated.
5. It Cleanses And Exfoliates The Skin Thoroughly
African black soap is rich in vitamin E and other emollients. It exfoliates your skin gently, getting rid of all the dirt and dead skin cells, and prevents signs of aging. Moreover, it is hypoallergenic and does not irritate your skin. It can be used for washing your hair as well. This soap has antiseptic properties that can soothe an itchy scalp.
6. It Fights Acne
African black soap is a boon for oily skinned people and those who are prone to acne. It balances the natural oil of your skin and doesn't let excess sebum clog your skin pores. It is very effective in controlling the proliferation of Propionibacterium acnes, the bacteria that cause acne.
7. It Prevents Razor Bumps
After you have waxed or shaved, your skin needs proper exfoliation to prevent the dead skin cells from clogging the pores and causing razor bumps. Using African black soap can help in preventing the bumps and infections that result from shaving and waxing your skin.
8. It Helps In Reducing Hyperpigmentation
Sun damage caused by excessive exposure to UV rays can leave ugly marks and dark spots on your skin (called hyperpigmentation). African black soap contains shea butter that protects your skin from sun damage and minimizes dark spots and hyperpigmentation.
9. It Has Anti-Fungal Properties
African black soap is a strong antifungal agent. It is very effective against several types of fungus, including Candida albicans (a type of yeast) that causes athlete's foot, jock itch, and other skin infections.
The ingredients found in this soap make it special and extremely beneficial for the skin:
Plantain Skin: Contains antioxidants, such as riboflavin, vitamin C, thiamine, and folic acid.
Cocoa Pod Husk: Enhances skin elasticity, hydration, and density.
Coconut Oil: Has anti-inflammatory properties and contains antioxidants that protect your skin from UV damage and prevent skin aging.
Palm Kernel Oil: Is an excellent moisturizer and emollient that keeps your skin hydrated and nourished.
Shea Butter: Has anti-inflammatory property and keeps your skin moisturized and prevents fine lines and signs of aging.
Vitamin E: Assists in various kinds of cellular restoration from sun damage to healing support for scars or burns.
Here are different ways to use African Soap: 
Take the soap and knead it into small balls. Make sure there aren't any rough edges. Rub it between your palms into a lather and then apply it to your face. If you are applying the soap directly to your face, be gentle.
Soak the soap in purified water. Let it dissolve and liquefy. Use it as your body wash.
Mix the African black soap with brown or white sugar and use it to scrub your body.
Take tiny chunks of the soap and let them dissolve in hot water. Mix 1 teaspoon of honey, 2 teaspoons of baking soda, and 5 drops of tea tree essential oil. Mix well and apply to your face and neck and leave it to dry. Massage gently and wash it off with water.
You do not need to scrub too hard even if you are using it on some other body part and not your face. Another important point to keep in mind is the proper storage of the soap. If not stored properly, African black soap will not last long.
African Black Soap ( 4 oz each )
---
We Also Recommend
---