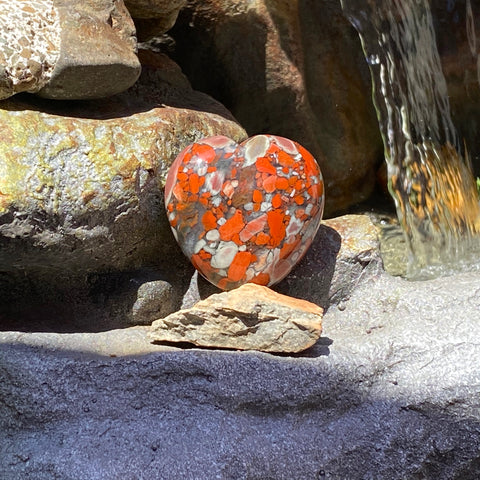 Stability and Strength Heart: Brecciated Jasper
When you feel like everything in life has fallen apart, Brecciated Jasper brings enlightenment on the journey to pull things back together.  This stone offers a very strong, grounding energy to help you attain emotional stability to reach normalcy after dealing with turmoil, a conflict or crisis.
Brecciated Jasper instills a feeling of wholeness, encouraging strength and vitality during  and after a traumatic or painful event.  It opens your mind to put an end to self deception and encourages one to focus on truths.

This Jasper heightens your physical energy and the desire to use it.  It is most suitable for working with the base and sacral chakras.  When held in your hand as a thumb stone, you can benefit from its calming, peaceful and serene energy. 
Brecciated Jasper assists when you are feeling overwhelmed, encouraging you to remain calm, focused and organized, enabling new ideals to flow until you accomplish all you set out to do.
It brings cheerfulness and vitality, reminding humanity to help one another. 
If your self-esteem is in need of a boost, Brecciated Jasper can help.  It promotes self-confidence and creative inspiration.  It provides the impetus for variety and new experiences, and encourages the development of fresh ideas.  Additionally it promotes clear thinking, which in turn leads to heightened solution awareness.
This stone can be gently stimulating, or fiery in passion and intensity as needed.  It is a great stone to help overcome any sexual guilt or shame we may feel about ourselves, along with calming any aggressive energy we have towards sex.
Brecciated Jasper has the ability to both awaken and stabilize the dormant Kundalini energy that lies within each of us.  This is the wealth of spiritual energy that helps us to reach higher levels of spiritual awareness.  It leads us to deeper meditations, and the discovery of personal spiritual truths.

This stone removes negative energy and returns it to where it came from; this makes it suitable for preventing or countering psychic attack. It  is often used for dream work; it facilitates dream recall, and will potentially promote a sense of self-awareness through dreaming.

Chakra:  Root, Sacral
Properties: Vitality, Focus, Grounding
Element: Fire
Zodiac: Aries, Scorpio
Origin: Madagascar


Do not cleanse Brecciated Jasper in salt water as it contains hematite; sitting it on a bed of selenite for a few hours would work well, so would smudging (holding it up in sage or incense smoke).
---
We Also Recommend
---