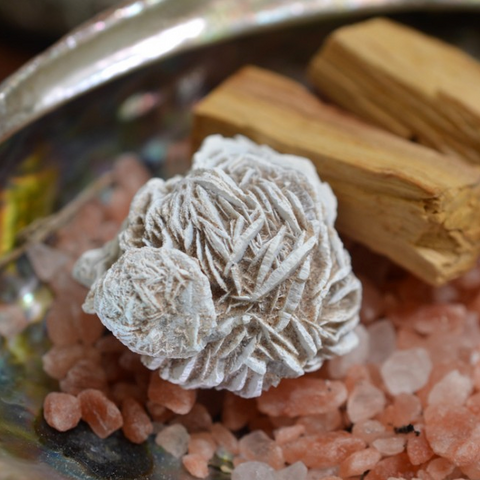 Energy Cleansing and Mental Clarity: Desert Rose
If you're going through a challenge that is causing you confusion or muddled thinking, the healing energy of Desert Rose will help you make sense of things and give you clarity of mind.
Desert Rose gently teaches us that the ups and downs of life are what make life worth living and to not dwell too much on any of them, but live in the present moment.  Use each experience as a tool to grow and develop as a person. 
It's a stone that will mold your character and help you grow and improve as a person.  If there's any kind of stagnation in your life, it will help bring it to like light.  It will enhance your motivation and initiative to pursue your goals and dreams.  Desert Rose will increase your sense of self-worth and self-confidence.  If you have the talent but feel shy, it will bolster your confidence and give you plenty of opportunities to show what you can do!


Desert Rose makes for very beautiful home decorations, and it also makes very elegant gifts.  However, extended exposure to water will change its formation.  Keep it away from wet places like the bathroom, the kitchen sink, or the poolside.  It should also be cleansed by smudging with smoke (use palo santo, sage, incense) or by exposing it to the sun and moon.
It is an excellent stone to protect your loved ones and your possessions.  Place a piece of Desert Rose in the four corners of your home to ward off negative energies and elements.
This stone is associated with wood energy. If you place it in the east or southeast area of your room or your home, you will be inviting or enhancing energies of abundance and prosperity.

Desert Rose (Mexico) - 2" inch
The energy of this stone strengthens your natural intuition by activating your third eye, while bring your clairvoyant gifts to the fore.  It will guide you in connecting to your higher-self and reaching a deeper meditative state.  It quiets your mind and removes our worries and anxieties, allowing us to see glimpses of the future helping our decision-making.
Carrying it with you throughout the day will help clear yourself of energy blockages and purify your mind and body. It is a powerful energy cleansing crystal and is a channel of white healing light. Desert Rose carries a gentle calming and rejuvenating energy that can help to relieve stress while enhancing your willpower. 
---
We Also Recommend
---