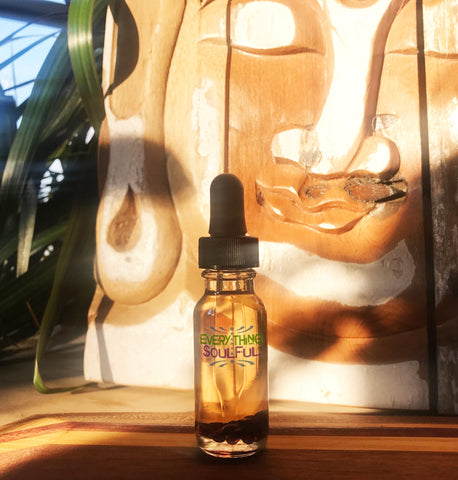 DEVOTION Infused with Garnet Aromatherapy Potion
So many times I define my pride




Through somebody else's eyes (La da da, la da)




Then I looked inside and found my own stride,




I found the lasting love for me




If I'm searching for my spirituality




Passionately I must begin with me



- Jill Scott (One is the Magic #)
BERGAMOT
balance, joy, strength, success
FRANKINCENSE
enlightenment, inspiration, introspection
GINGER
courage, empathy, healing, optimism
AMBER
cleansing, harmony, protection
Garnet's unique vibration gives us the strength to take charge of our lives and make a move in the direction of progress and reaching a higher state of consciousness. This crystal shields you from negativity on your spiritual journey.  Sometimes you can get in your own way, and in that case, Garnet works to balance the mind and emotions by helping you discard outdated ways of thinking and giving direction to a new path of abundance and vitality.
 

Garnet's divine energy will lead you to a higher expression of love.

 

If you're in a relationship, use Garnet to deepen your romantic love.  If you are single and ready-to-mingle, use it to empower your law of attraction.

 

Since it is connected to the root chakra, it helps you feel grounded, secure and safe. It alleviates feelings of fear, worry or panic so that you feel much more deeply connected to yourself... in the present moment.

 
Refresh, renew and restore balance with the healing power of aromatherapy and crystal healing. Get your soul-nourishing experience anywhere, anytime with the pocket size roll-on. The dropper makes it easy to energize your space with a Zen essence using your oil burner.
The crystals have been energized with the sun and the moon to enhance the purpose and raise the vibration.
Our potions contain 100% therapeutic grade essential oils and plant extracts blended with jojoba oil making it safe to put directly on your skin.
What you treat with devotion grows.
---
We Also Recommend
---