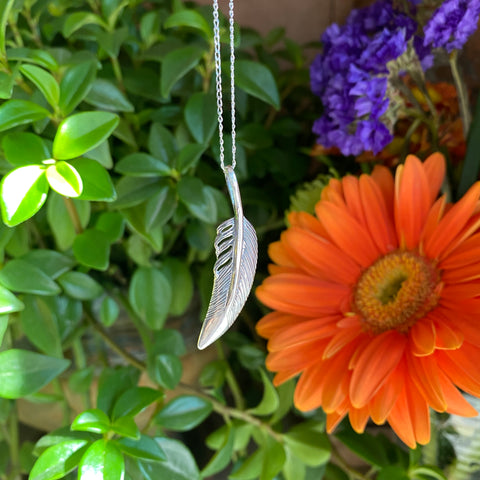 Freedom and Evolution Feather (Sterling Silver)
Feathers symbolize ascension, spirit, flight and heaven.  It is a mutual belief across different cultures that the feather represents spiritual evolution to a higher plane.  The feather teaches us faith and hope in ourselves and in the universe.  It reminds us to move freely through life, and notice when we need to change the direction we are traveling.  The feather is the embodiment of strength, growth, hope and freedom.

♦  Get Grateful. Feathers are a reminder to count our blessings and be thankful for the good stuff going on in our lives.
♦  Get High.  Feathers are a symbol of levity. When seen, they remind us ease up on all the seriousness. Take a breath, relax, enjoy.
♦  Get Listening. If feathers really are a communication tool to and from the gods, then their appearance is a reminder to listen to the bigger voice – as in a higher power.
♦  Get Love. Feathers often show up when there is someone or something that wants to reach out to us. Sometimes this might be a loved one who has passed into non-physical. A feather is a reminder you are loved by your ancestors.
  
Native American: communication with Great Spirit, celestial wisdom, cleansing rituals, the power of prayers, air and wind
Celtic: sky gods, knowledge of the celestial realm, transcendence
Egyptian: Ma'at, the Egyptian Goddess of Justice

Christianity: virtues, charity, hope, faith, soul

Sterling Silver Feather (1.7" in) and Necklace (20" in)
---
We Also Recommend
---