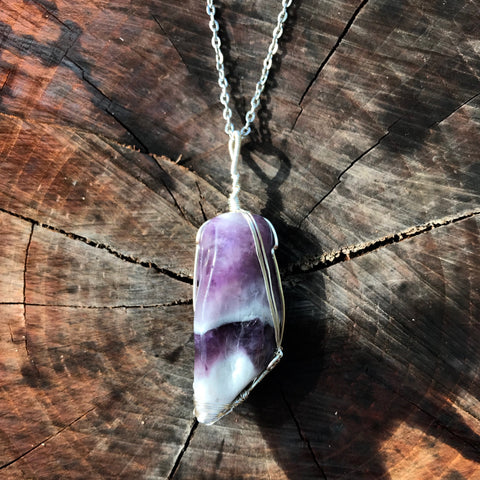 Intuition Crystal Pendant: Chevron Amethyst
Chevron Amethyst combines the healing properties of Clear Quartz and Amethyst.
It balances the mind and opens it for a higher consciousness
It strengthens intuition and allows new insights about your own personality
Raises one's spiritual energetic vibration
Helps with clarity of thought and insight into any situation
Aids in decision making process
Heals past-life trauma by moving one's spirit above and beyond it
Reveals hidden layers of a situation in order to better understand everything that is involved
Activate your crystal pendant by whispering your wishes and desires into the crystal.  Learn about your stone's healing properties and incorporate them into your needs.  Place it by the window sill during the full moon to energize it and in the flow of smoke to cleanse it.  You can use sage, incense, herbs for this.  Wear it often, while being conscious of its power to develop a deep connection to it.


Chevron Amethyst (India): 1" x 2" inches
---
We Also Recommend
---