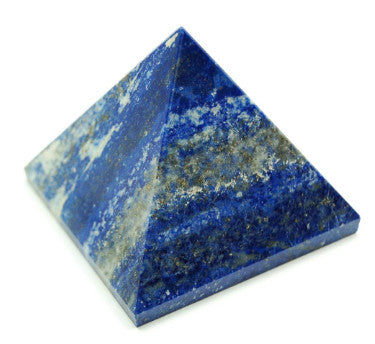 Awareness Pyramid: Lapis Lazuli
"I see clearly and speak with confidence."
This is the stone of total awareness.  Lapis Lazuli opens the third eye, immediately heightening psychic abilities and stimulating your personal power.
Lapis is a great stone to bring deep inner knowledge about the self, encouraging you to take charge. It unveils your inner truth and teaches you self-expression. Also called a thought amplifier, Lapis Lazuli is very stimulating intellectually, opening up your higher mind and bringing deep clarity. It stimulates the desire for knowledge, truth and understanding and aids the process of learning. It is excellent for enhancing memory.

 
Lapis Lazuli is a stone of protection that may be worn to guard against psychic attacks and even sends negative energy back to its source.  It quickly releases stress, bringing deep peace.  It brings harmony and deep inner self-knowledge.  Encourages self-awareness, allows self-expression and reveals inner truth, providing qualities of honesty, compassion and morality to the personality.  Stimulates objectivity, clarity and encourages creativity.  Lapis Lazuli assists to confront and speak one's truth and inspires confidence.  It bonds relationships, aiding in expression of feelings and emotions.
This Lapis Lazuli Pyramid from Chile is 1" - 1-1/4" 
For fame in a creative or public performance-related area, wear or carry Lapis Lazuli to auditions. In the workplace, it attracts promotion, success and lasting recognition in your field.  It's great for you desk, home office and/or creative space.
The Sacred Geometry inherent within any pyramid's design is what gives it the power within.  It's most powerful area is in the center, near the apex, so it can be helpful to focus your intention into this spot. When working with these powerful items, be sure you have stated a purpose for the highest good, and are clear about your desires.
---
We Also Recommend
---