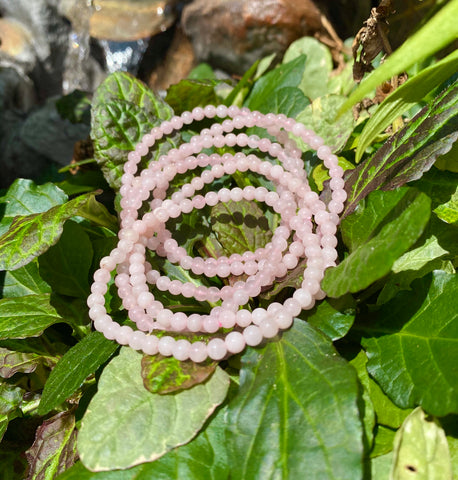 Love and Compassion Bracelet: Rose Quartz
Rose Quartz is known as "The Stone of Unconditional Love."  It has a soothing energy that increases empathy towards oneself and others.
It helps improve our ability to forgive ourselves for our past indiscretions.  It also gives us the strength and courage to forgive others for any wrongs they may have done to us.
Rose Quartz has a calming effect, excellent for use in trauma or crisis.  It aids the acceptance of necessary change.  If you have loved and lost, it comforts you through the process and feelings of grief.
 
We currently have 6mm size bead.  It is larger than the usual 4mm
Rose Quartz reminds us that compassion and forgiveness towards ourselves and others is essential to our growth.  Without them, we continue to carry too heavy of a burden that will weigh us down and hinder us on our journey towards enlightenment. 
This crystal understands how difficult this task can be and will assist by lowering stress and tension and dissipating any anger and jealousy we are holding onto, fostering only loving, peaceful thoughts and actions.
---
We Also Recommend
---