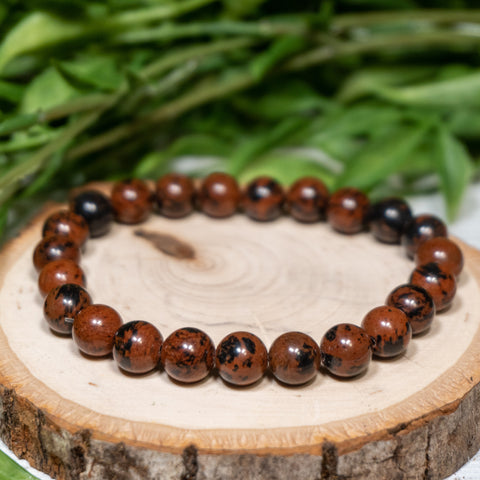 Personal Growth and Creativity Bracelet: Mahogany Obsidian
Mahogany Obsidian works to bring thoughts and ideas into action for the sole purpose of personal growth. This crystal works to release us from our own inner limitations that restrict development of our life path.

 

This powerful grounding stone activates our lower 3 chakras and stimulates growth, sexuality, strength, creativity, passion, and protection.

 


Mahogany Obsidian works to eliminate any hesitation  that is constantly weighing judgement on decisions that affect your life purpose.  Anything is possible if you are willing to take the chance.
  Creativity is much like a muscle, when you stop working it out, it will slowly fade away.  Mahogany Obsidian helps in releasing and reactivating any creative energy that may be dormant.  Work with this stone if you have put off expressing your true self for whatever reason.  It will empower you to become the highest version of yourself.  You'll begin to see yourself and the world around you with a different set of lenses.

Great for any person looking to increase or unlock their sexual energy and vibrations.
Assists with being able to express yourself and desires with ease.
A perfect meditation tool for anyone working to release negative energy and stimulate growth on all levels.
Works on cleansing your aura and providing protection from negativity.
Mahogany Obsidian will expand your awareness and mental capability, while helping achieve the highest version of yourself.
---
We Also Recommend
---