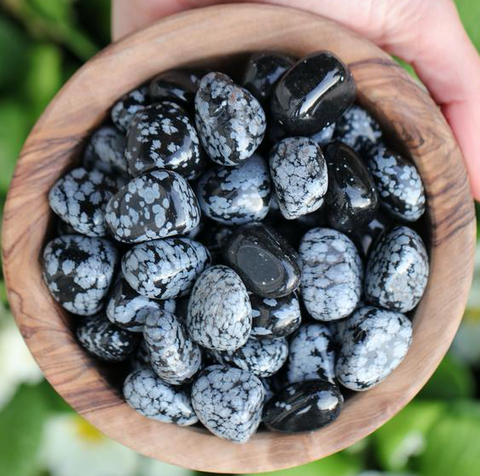 Personal Growth and Purity: Snowflake Obsidian
Snowflake Obsidian is a stone of purity bringing balance to your mind, body and spirit.  This stone encourages inner reflection making us aware of negative patterns of thought and unhealthy patterns of behavior and giving us the chance to change them.
- Encourages personal growth
- Instills determination
- Increases courage
- Stimulates intuition
- Facilitates compassion
- Reduces arthritis pain
- Encourages independence
- Keeps you grounded and centered
- Reveals the truth in any situation
- Detoxifies the physical body
- Helps you maintain proper circulation
Chakra: Root
Properties: Balance, Protection, Growth
Zodiac: Capricorn, Virgo, Scorpio, Leo
Element: Earth, Fire
This stone derives from a volcanic eruption reminding you that your hidden emotions, if not addressed, will erupt from within and damper your journey.  It encourages you to bring your issues to the surface gently in order to process them, understand them and finally heal from them. 
Snowflake Obsidian encourages you to focus on the present moment and let all that needs to burn, burn holding onto only what is pure.

Snowflake Obsidian (Argentina) - 1" inch
---
We Also Recommend
---