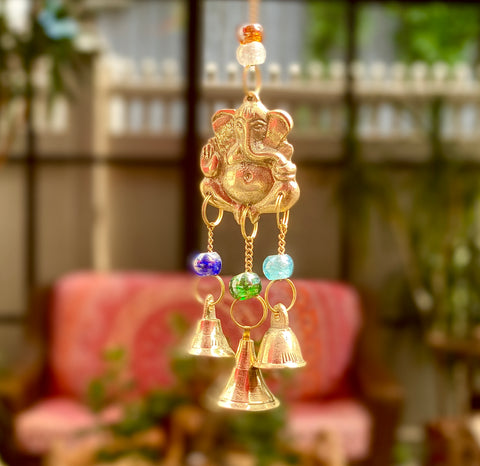 Prosperity and Remover of Obstacles: Ganesh Chime
Ganesh is the Lord of Good Fortune who provides prosperity, fortune and success.  He is the Lord of Beginnings and the Remover of Obstacles of both material and spiritual kinds.  Interestingly, he also places obstacles in the path of those who need to be checked.



He
 

is one of the best known and loved deities in the Hindu pantheon of gods, and indeed is the most recognized outside of India.  

His image is found everywhere, in many different forms, and he is usually

 

called upon

 

before the undertaking of any task.
 

Ganesh is also associated with the Root Chakra and represents conservation, survival and material well-being.  He is considered to be a patron of the arts and sciences.  Devotees believe that he grants success, prosperity and protection against adversity.  Ganesh is also the destroyer of vanity, selfishness and pride.
  
The sweet melody of chimes invigorate the soul,  awaken the senses and the spirit.  Bells have a healing effect on the body and mind, reducing emotional stress, bringing feelings of inner-peace and balance.
Chimes enhance your indoor / outdoor vibe, adding color and texture to your landscape while simultaneously creating good luck and positive energy.  You can hang them on your window, your door knob, even against the wall as an ornament or anywhere in your outdoor space (yes, even on your fire escape!).
Chimes:
- resonate with praise, victory and celebration
- fortify nature's harmonic balance with human life
- are an icon of the voice of The Divine
- represent the wisdom of emptiness
- signify the aspect of universal compassion
- bring us closer to the enlightened mind
7.25' inches x 1.25" inches
---
We Also Recommend
---