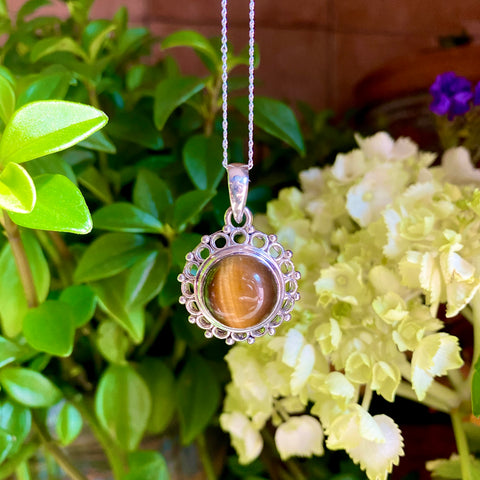 Good Fortune Pendant: Tiger's Eye (Sterling Silver)
Tiger's Eye is a stone of luck and good fortune.  It is especially impactful when it comes to attracting wealth and breaking through financial blocks.
It is ideal for entrepreneurs and those setting out in business for the first time; also for those building up skills and a knowledge base for major career changes in the future.
It supports necessary change in all aspects of one's life, strengthening the will and clarity of intention in order to manifest at the highest level.
It inspires creativity and utilizing one's talents and abilities, and is superb for stimulating wealth and the good judgement needed to maintain it.
It has the power to focus the mind, promoting mental clarity, assisting us to resolve problems objectively and unclouded by emotions.
Particularly useful for healing psychosomatic illnesses, dispelling fear and anxiety.
 Teaches you to see every challenge as a chance to step into your power and demonstrate your bravery.
Helps you stay grounded and centered, even if you're surrounded by chaos. 
Increases insight and perception in unfamiliar places or circumstances, and protects from the negative intentions of others.
Tiger Eye (South Africa): 1.25" in
Sterling Silver Necklace 20" in
Activate your crystal pendant by whispering your wishes and desires into the crystal.  Learn about your stone's healing properties and incorporate them into your needs.  Place it by the window sill during the full moon to energize it and in the flow of smoke to cleanse it.  You can use sage, incense, herbs for this.  Wear it often, while being conscious of its power to develop a deep connection to it.
---
We Also Recommend
---