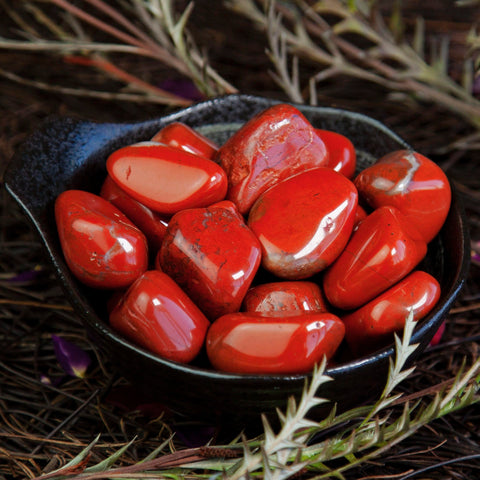 Red Jasper: Grounding Tumbled Stone
"I am open to all that is around me and all that is within me."
Red Jasper crystal is full of grounding energy connecting one deeply to the vibrations of the earth. Some Native American cultures consider Red Jasper to symbolize the blood of the Earth, making it particularly sacred.  It helps you understand the connection between humans and nature. Known as the "supreme nurturer", it sustains and supports through times of stress, brings tranquility and wholeness. It encourages honesty with one's self. It provides courage to assertively tackle problems. It stimulates the imagination and transforms ideas into action.
Chakras - Base Chakra
Element - Fire
Astrological Signs - Aries, Scorpio, Virgo
Energy: Projective
Associations: Pluto, Mercury, Mars
Red Jasper is gently stimulating and also an extremely protective stone.  It can neutralize radiation and other forms of environmental and electromagnetic pollution.  Red Jasper rectifies unjust situations and grounds energy.  It brings problems to light and provides insights into difficult situations.  An excellent "worry bead", Red Jasper calms the emotions.  It aids in dream recall.  Cleans and stabilizes the aura.  A stone of health, Red Jasper strengthens and detoxifies the circulatory system, blood and liver.
1" - 1-1/2"
Hold this gem to

 boost your energy, vitality and perseverance when it is running particularly low.
---
We Also Recommend
---