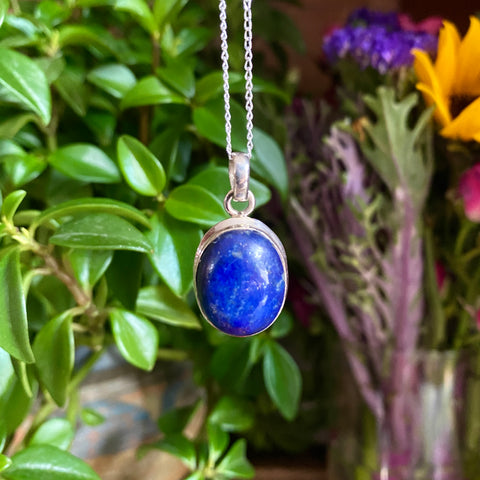 Wisdom and Focus Pendant: Lapis Lazuli (Sterling Silver)
Lapis Lazuli Stimulates the desire for knowledge, truth and understanding.
Aids the process of learning and enhances memory
Activates the higher mind and enhances intellectual ability
Inspires you tap into your inner wisdom
Helps uncover your authentic truth and spiritual path
Assists your journey of self-discovery and self-mastery
Helps you see the magic in the universe
Awakens the third eye chakra
great for migraines and headaches 
Encourages you to trust your intuition 
 Helps you go deeper in your meditation
Deepens your connection with your divine purpose
Carries you down the path to spiritual enlightenment
Protects against psychic attacks
Assists one to speak one's truth
Stimulates objectivity, clarity and encourages creativity


Lapis Lazuli (Chile) - .75" - 1" in
Sterling Silver Chain - 20" in
Activate your crystal pendant by whispering your wishes and desires into the crystal.  Learn about your stone's healing properties and incorporate them into your needs.  Place it by the window sill during the full moon to energize it and in the flow of smoke to cleanse it.  You can use sage, incense, herbs for this.  Wear it often, while being conscious of its power to develop a deep connection to it.
---
We Also Recommend
---