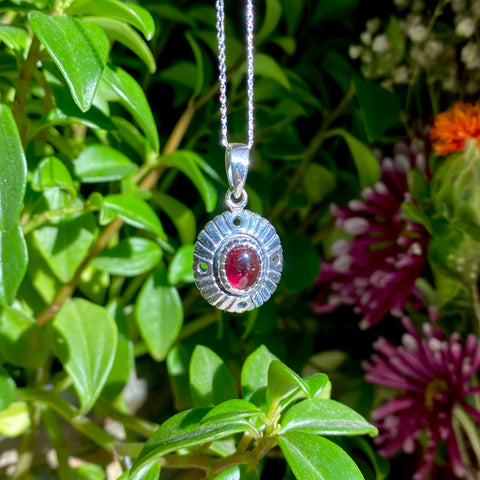 Lighten Up Pendant: Garnet (Sterling Silver)
The flash and fire of Garnet inspires a sense of lightness and brightness, illuminating dark places and dark souls. 
Garnet is a good stone for depression, bringing joy and hope to its user, and helps lessen anger, especially toward oneself. 
Garnet's fire stimulates the survival instinct, bringing willpower and courage to a situation. 
Garnet will quickly "light a fire" under you ass, bringing those internalized ideas and feelings you have to the surface to be acted upon and carried out.

Powerful Garnet can cleanse the chakras of negative energies and re-energize them. 
Use Garnet to balance the Sacral Chakra and sex drive, and to aid in the controlled rise of Kundalini energy.
Garnet inspires love and passion, devotion and loyalty.
A stone of commitment, Garnet encourages personal relationships of all kinds, and is a useful relationship tool both personally and in business.

Activate your pendant by whispering your wishes and desires into the crystal.  Learn about your stone's healing properties and incorporate them into your needs.  Place it by the window sill during the full moon to energize it and in the flow of smoke to cleanse it.  You can use sage, incense, herbs for this.  Wear it often, while being conscious of its power to develop a deep connection to it.
Garnet (Brazil): 1 inch
Sterling Silver Necklace 20
---
We Also Recommend
---