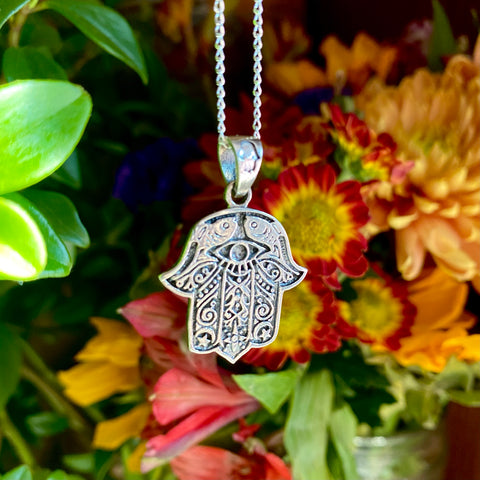 Protection Amulet: Hamsa Hand (Sterling Silver)
The Hamsa Hand is a protective sign believed to bring its owner happiness, harmony, good health, success and protection from the the evil eye.

This symbol is an ancient Middle Eastern amulet symbolizing the Hand of God.  In the Islamic faith, the hand symbolizes The Hand of Fatima, daughter of the Prophet Mohammed.
The Hamsa symbol is worn by people who have faith in a 'Supreme Power' and find themselves at a crossroad in life.  They could follow different religions; some of them could be Jewish, Muslim others could be advocates of Christianity or Buddhism.  Irrespective of their religious beliefs, they would find themselves in a common ground as far as having faith in a Higher Power is concerned.
Hand of Fatima: 1.45" in
Sterling Silver Necklace: 20" inches
---
We Also Recommend
---