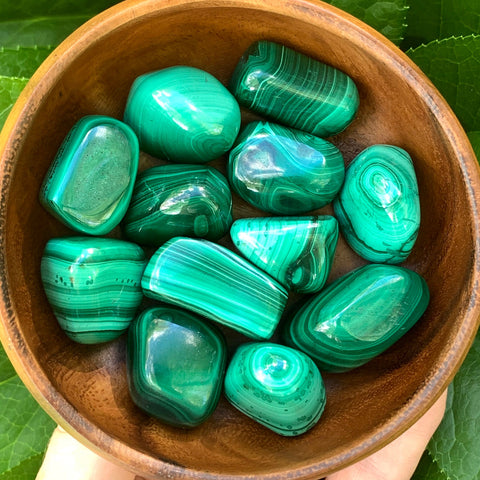 Transformation and Healing: Malachite
Malachite has been used by the Native Americans for thousands of years, to cleanse the space and crystals with sage to set the mood for transformation and healing.  This stone reminds us to turn over a new leaf because it's time for a change. It helps bring energy and focus to new growth while pruning off the weeds holding you back.

Keep the past in the dust and move on, that's the message of Malachite.  Known in the crystal healing world as a warrior stone, Malachite serves as a guardian of the heart, the area that often takes a brutal beating.  Whether it's closed to heal emotional wounds or open to new love, Malachite is on guard, allowing its healing energy to flow through your heart chakras and giving you a new sense of vitality and spiritual renewal.

Like a forest of green, the spirit of Malachite is all about growth and progress as it helps you prune away old belief systems and thought patterns no longer serving you. Malachite also helps you open the doors to the universe and all its beauty and wonder.  This gem helps bring you out of a rut by giving you a deeper understanding of your true creative spirit. 

- helps battle depression and anxiety, gives resistance to emotional blackmail
- heals emotional abuse, especially when suffered in childhood
- encourages healthy relationships based on love and not need
- assists in overcoming fear of confrontation, or fear of being seen or noticed
- helps one find the strength within to assume their rightful place in the Universe
- alleviates shyness, encourages change and emotional risk-taking
- brings to the forefront what is blocking your spiritual growth
- draws out deep feelings and psychosomatic causes
- allows you to break unwanted ties and outworn patterns
- teaches the responsibility for one's own thoughts and actions
- inspires your dreams, visions and wishes into physical reality
- It works to remove environmental pollution 
 
How to Use:
Holding it with peaceful contemplation, it will draw out and reflect whatever is impeding spiritual growth.  To break negative patterns of behavior, speak your fears and sorrows aloud daily as you hold the crystal, then, leave it in a sheltered place outdoors overnight to carry away the fears.  To encourage positive, life-affirming thoughts, practice walking meditation in nature while holding your Malachite stone and contemplate your intention for healing and transformation.
Malachite (Australia) - 1" - 1.5" inch
---
We Also Recommend
---